---
---
About Forum The Shopping Mall
Forum The Shopping Mall is a family-oriented mall that boasts a unique mix of stores and eateries. Located at Singapore's main shopping belt, it is a mere 5-minute walk away from Orchard MRT station. Spanning over 110,000 sq ft with five retail levels, it is home to over 60 specialty stores catering to the needs of sophisticated shoppers and families with young children.
Besides anchor tenants - Toys"R"Us and Julia Gabriel Centre, the mall offers a wide selection of fashion wear, F&B outlets, educational centres, and paediatric clinic. Join us for an Italian feast at LINO, whimsical Chinese dimsum at Social Place or some vegan sweet treats at Kind Kones. For some traditional Hong Kong Cantonese cuisine, Jade Palace Seafood Restaurant is the place to be, with a wide selection of live seafood, famous claypot rice and over 300 types of wine. For little ones, a visit to Bonpoint and Kids21 make for an enjoyable shopping trip.
Other lifestyle establishments include personal care stores, beauty, nail & hair salons.
Hermill Investments Pte Ltd, a subsidiary of Hotel Properties Limited owns Forum The Shopping Mall.
For more information, please contact us at:
Hermill Investments Pte Ltd
583 Orchard Road
#05-03 Forum Office Tower
Singapore 238884
Information Counter Tel: +(65) 6732 2469 / +(65) 6732 2479
Management Office Tel: +(65) 6838 7181
Fax: +(65) 6733 4365
Customer Service
Our Customer Relations Officers will be glad to assist you with a range of services to make your shopping experience here pleasant and memorable. These include locating a particular store, shopping rewards redemption, car park redemption, registration for Hip Kids Club membership and sale of Forum The Shopping Mall gift vouchers.
The Information Counter is located on Level 2 of the mall and is open daily from 10am to 9pm.
Contact us at +(65) 6732 2469 or +(65) 6732 2479.
Amenities
Mother's room
The Mother's Room located on Level 1 comes complete with changing stations, nursing rooms and wash basin.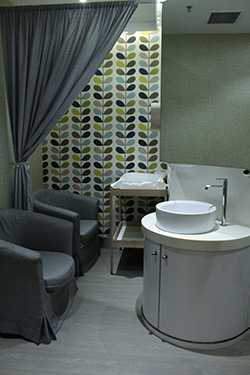 Restrooms


Restrooms are located on Basement 1, Levels 1 and 2, with designated cubicles for the wheelchair bound as well as baby changing stations.

ATM & AXS Machines
For easy access to cash or e-Services, the AXS machine is located at Basement 1 while Citibank ATM machine is located at Level 1 (Taxi Stand).
Gift Vouchers
Deciding on the right gift for someone can be tough. That's what makes Forum The Shopping Mall gift vouchers the perfect gift. Forum The Shopping Mall gift vouchers are accepted at most specialty stores in the mall.
The gift vouchers are available in denominations of $10, $25 and $50 and are valid for 6 months from the date of purchase. Payment for gift voucher is by cash only.
The gift vouchers can be purchased at the Information Counter located on Level 2. For enquiries regarding gift vouchers, please contact our Customer Relations Officers at +(65) 6732 2469 or +(65) 6732 2479.
Participating Tenants for Gift Voucher Redemption
| | |
| --- | --- |
| Scarlet & Ebony | #01-15/16 |
| Singora | #01-05 |
| Bonpoint | #02-11 |
| Kids21 | #02-24 |
| Jewels Galleria | #01-44 |
| Arium Clinic - Aesthetics & Wellness by Dr Donna | #02-26 |
| Bloom Nail Garden | #02-31 |
| EGA Juice Clinic | #B1-11 |
| LAC | #B1-23 |
| LittleRedDot | #02-35/36 |
| Mother&Child Wellness | #02-34 |
| Scissors Paper Stone | #02-18 |
| SHS Hair Studio Prestige | #02-14 |
| SHS Scalp Studio | #02-16 |
| SuperNature | #B1-05/09 |
| Therapeutics Aroma | #03-01 |
| VitaKids | #B1-26 |
| Watsons | #B1-20 |
| Capitol Optical | #B1-17 |
| W Optics | #01-26 |
| EAT. | #B1-31 |
| Glow Cafe | #B1-05/09 |
| Hana | #01-17 |
| Hana lzakaya | #01-20/21 |
| Jade Palace Seafood Restaurant | #B1-12 |
| Kind Kones | #B1-27 |
| LINO | #01-01 |
| McDonald's | #B1-25 |
| Nozomi | #01-41 |
| Pita Tree Mediterranean Grilled Kebabs | #01-K3 (Outdoor Kiosk) |
| See's Candies | #01-K2 |
| Social Place | #01-22 |
| The Coffee Bean & Tea Leaf | #01-45 |
| FotoHub | #B1-22 |
| 75cl @ Forum | #B1-18 |
| Books Ahoy! | #02-03/04 |
| Capezio | #02-17 |
| FLEXA | #02-19 |
| playhao | #02-15 |
| The Toy Folks | #B1-10 |
| Toys"R"Us | #03-03 to 15 |
Getting Here
Getting to Forum The Shopping Mall is easy. The mall is conveniently located on cosmopolitan Orchard Road,
Singapore's main shopping belt.
Opening hours : 7 days a week from 10am to 9pm daily
By Train

Orchard MRT Station (NS22)
By Bus

Bus stop located at Orchard Road
(near Delfi Orchard – Bus Stop no. 09169)
Service No: 7, 36, 77, 105,106,111, 123,132, 174, 174e,
502, 502A, NR8
Bus stop located at Orchard Boulevard
(opposite Four Seasons Hotel – Bus Stop No. 09111)
Service No: 7, 36, 77, 105, 106,111, 123, 132, 174, 174e, NR8
By Car

Car park access is via Cuscaden Road
By Taxi

Taxi stand is located along Cuscaden Road
Parking Services
Forum The Shopping Mall provides 206 car park spaces over 2 basement levels to make your shopping trip here convenient. Entry to the car park is from Cuscaden Road. Parking is by Electronic Parking System (EPS). Carpark entrance maximum height clearance is 2.1m.
Monday to Friday
6AM to 5PM
$2.60 for the first hour
$1.30 for every subsequent half hour or part thereof
After 5PM
$3.50 per entry
Saturday, Sundays & Public Holidays
6AM to 5PM
$2.80 for the first hour
$1.50 for every subsequent half hour or part thereof
After 5PM
$3.50 per entry
Cash cards can be topped up at the NETs terminals located at Basement 2 and 3 lift lobbies.
---
Drivers are advised to park at designated lots. Vehicle(s) will be wheel clamped at no parking zones. A charge of $200 will be imposed for removal of wheel clamp. Vehicles parked within the premises are at owner's risks. The Management accept no responsibility for any misdemeanours, theft or damages to the vehicles or to any content therein.

Enjoy two hours' worth of complimentary weekday parking (valued at $5.20) with $100 spend in a single same-day retail receipt.*

Limited to the first 100 redemptions per day and one redemption per shopper per day per original same-day receipt. Not valid for the purchase of gift vouchers/gift certificates/e-vouchers, top-up of stored value cards, bill payments, online payments, and purchases made at atrium fairs. Shopper's name, mobile number and transaction details will be recorded to control daily issuance. Redemption must be made between 10am and 9pm at the Information Counter on Level 2. Redeemed coupon must be utilized on the same day, and no extension will be allowed. Shoppers are reminded to remove his/her cash card before the car reaches the car park barrier, and prior to scanning the complimentary coupon at the exit terminal.

* Complimentary parking does not apply to public holidays that fall on weekdays.

1-hour complimentary weekday parking coupons will no longer be issued.
Forum Office Tower has 12 floors of office space housing multinational and regional companies as well as a slew of creative learning centres catering to kids.

If you would like to know more about leasing opportunities within Forum The Shopping Mall or Forum Office Tower, please contact the following personnel:
Ms Pearly Koh
Senior Leasing Manager
Tel : +(65) 6838 7176
Email : pearlykoh@hermill.com.sg

Ms Clara Foo
Leasing Executive
Tel: +(65) 6838 7185
Email : clarafoo@hermill.com.sg

Career Opportunities
We are always looking for dedicated and enthusiastic staff.
Current opportunities will be posted here so make sure you keep an eye on this page for your next position!